Training sessions for members of the Community Welfare and Mediation Committee (CWMC)members and Peace mothers' animators have started in Kalangba section,Sanda Taindaren chiefdom,Karene district.It was held in Mathoir village where participants were drawn  from fifteen villages.

In his address,Acting section chief Amadu Kargbo said it was a dream come true as he was fortunate to select his section during balloting at the chiefdom meeting where Fambul Tok begins training in the chiefdom.He welcomed Fambul Tok organization in Sanda Taindaren chiefdom and  stated  that everything humanly possible will be done to ensure unity, peace and development in that part of the country
Fambul Tok  Issa Kamara gave brief background of the Peoples Planning Process,Village Development Process and Peace Mothers animators.He said participants were selected by villages to be trained in different areas such as mediation,reconciliation,communication and community mobilization.He added that leadership and key steps in the Village Development Process will be dealt with.
Reverend Emmanuel Mansaray took participants through meaning,principles,steps and limitations of community mediation which leads to sustainable peace and development.He said mediation is very key and requested trainees to take it very serious.A demonstration on mediation role play was done by participants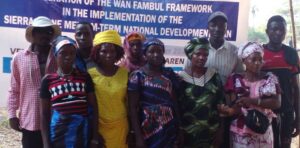 On communication,participants were taught how to embark on good communication skills.Reconciliation was a key topic as participants were eager to learn how to reconcile people and communities.
Joseph Kargbo emphasized on the need for communities to take full ownership  of their activities and CWMCs and Peace mothers animators to take the lead in facilitating roll out of the Village    Development Process                                                                  CWMC Executive members