Fambul Tok International-SL with support from Africa Transitional Justice Lagacy Fund (ATJLF) conducted community healing and reconciliation ceremony at Taninihun Mboka section in Kongbora Chiefdom, Moyamba district on Christmas Eve.
Amidst traditional singing and dancing, community members eagerly awaited the start of the healing and reconciliation ceremony.
Fambul Tok (FT) Sadiatu Pessima called the ceremony to order. She encouraged community members to be at ease as the process was non-judicial. She expressed the need for community unification and national cohesion.
Emma Coker, Peace Mothers' chairlady thanked FT for bringing them together. She further explained the work they are doing to resolve conflict in the community.
A total of eight cases were resolved. Among which was Janet Thomas and her uncle, Pa Dauda Kallay (who is also the section chief). Pa Kallay accused Janet Thomas of falsely testifying against his ward who was subsequently locked up in the police station. The two had not been in speaking terms for about seven months. They were both reconciled and embraced each other as a sign of acceptance.
Other issues that were settled cut across abuse of power by section authorities, human rights and marital problems.
Community members offered both Muslim and Christian prayers after the healing and reconciliation ceremony. They asked for lasting peace and sustainable development.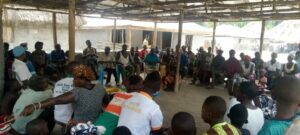 Section Chief Pa Dauda Kallay thanked FT and ATJLF for their support in promoting peace in his section. He emphasized that the event is a befitting Christmas gift to the community and "we (community) should see ourselves as 'Wan Fambul' (one family)".