A total of one hundred Peace Mothers of  Heremakono section,Sengbe chiefdom,Koinadugu district have embarked on monthly fund raising for the construction of the first community market in Gbenikoro village..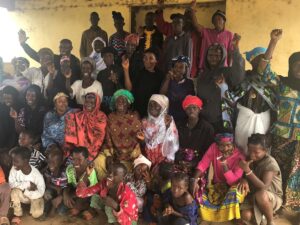 According to the group's chair lady,Sundu Marah,they agreed during one of their meetings to identify one of the most felt needs affecting the entire section.She stated that during that meeting,suggestions came up to build a community market and unanimously Le5,00 was tagged to be a seal for every member to pay at the end of every month.Sundu disclosed that  it was not  an easy start  but as time went by women did everything to contribute.
Financial Secretary,Fatmata Marah disclosed that Le2,000 has been collected and as they continue women are willing to ensure the market project becomes a reality.She mentioned that Peace  mothers support orphans to pay school charges,adding that peace mothers always respond to community assistance.
Kadi Jabbie highlighted soap making venture,agricultural activity such as rice farming and small scale revolving loan pursued by peace mothers in the section.She called on Government,organizations and all those who hail from the Chiefdom to assist rural women especially towards the very first community market in that part of the country.She said women walked long distances with perishable goods but with the construction of a market in the central of the chiefdom,they will make lots of savings