It was unbelievable for Pa Morie Musa for the whole Kowama village to openly apologized and embraced him once again during traditional burn fire last Thursday.The visually impaired man has been totally abandoned by his people including immediate family members many years ago.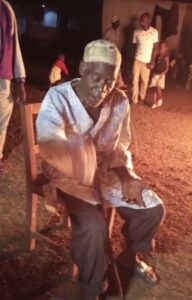 Testifying during the burn fire,he said he left the village  many years ago when he was active.He continued that after decades he decided to return home to help in the development of Kowama.He told his audience that he became ill and was visually impaired.He lamented over how his plantation was misused and did not receive any proceeds from his labor.
Pa Musa told the mammoth gathering that almost all  inhabitants of Kowama had no business with him.adding that he had suffered  a lot and  nearly wanted to find ways to leave the community.
Responding to his testimony,Town chief of Kowama Madam Nyawo Faaba took the stage on behalf of the village and did not go into all what the old man has said.She was also  joined by elders of the village to apologize and once again embrace the old man.
Madam Faaba said Pa Musa's parents were founder of the village and does not wish him   to leave.She encouraged him to accept the apologies in the spirit of peace and reconciliation.Pa Musa cried but accepted