Paramount Chief Alfred Saidu Ndomawa Banya together with chiefdom stakeholders has welcomed the inception of the People's Planning Process(PPP) in Kongbora chiefdom,Moyamba district.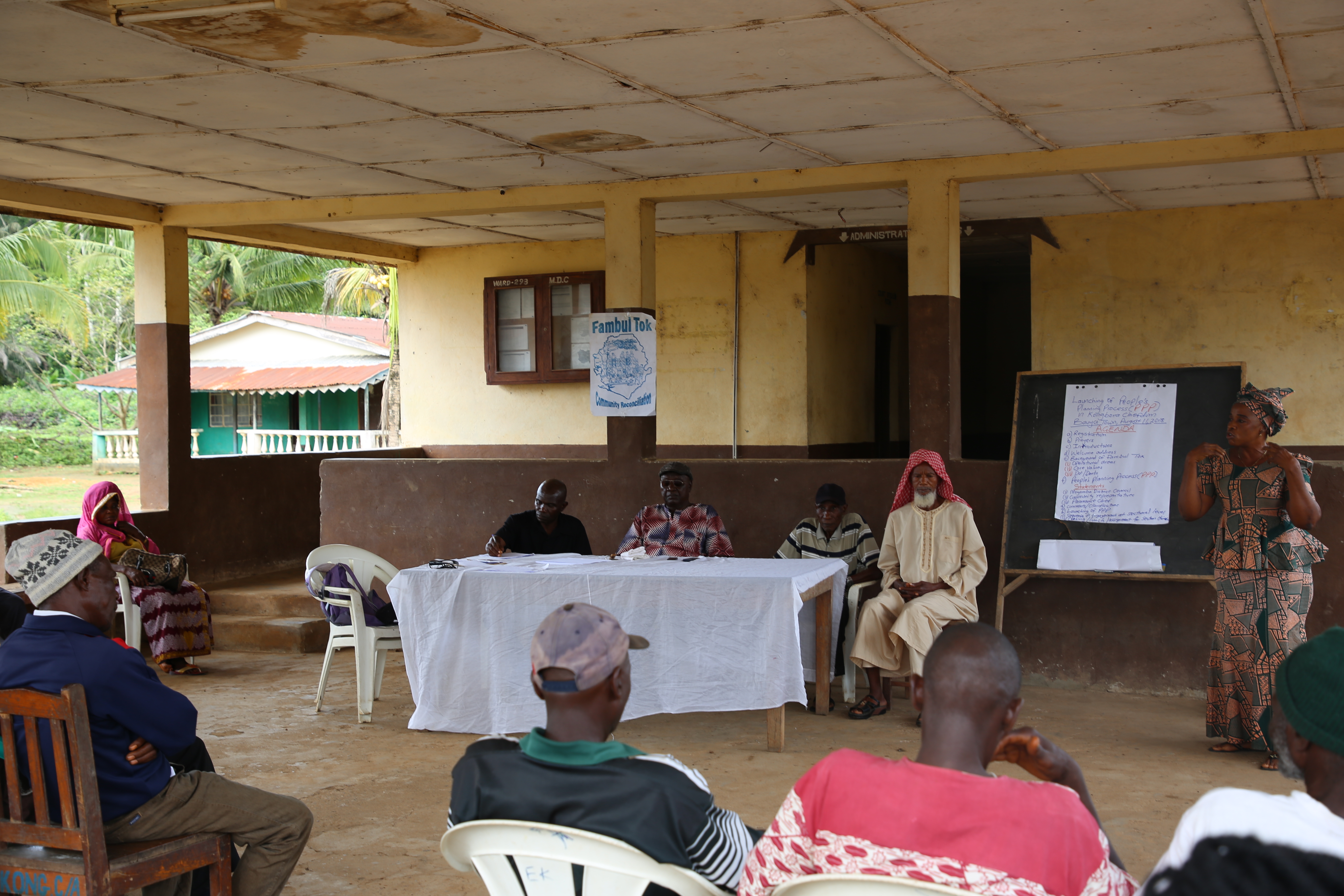 The event took place at the chiefdom headquarter town of Bauya on August 11,2018.
In his remarks,PC Banya said he is happy that his chiefdom will be benefiting from the process,adding that the reputation of Fambul Tok is to bring peace in divided communities.
"We need them now,we still have a lot of issues in communities and if we don't work together in peace to resolve these problems,development will not strife here"Chief emphasised,adding, though Fambul Tok had worked in four out of the ten sections,there is need to spread activities in the remaining six sections and we are ready to support every aspect of the PPP.
Fambul Tok Head of Peace Mothers,Lilian Morsay explained that the entire process is achored on on the experiences of the war,the ebola outbreak and the values of the organization.She said the main purpose of the PPP is to seal the many cracks in communities and prevent wastage of resources and efforts by NGOs and government agencies.
"We listen and learn from the communities and accompany them to find solutions to their problems…solutions based on good practices.Politics have divided people and communities-especially the past elections.So we need to work to create national cohesion to foster development"She advised
Moyamba District Council Deputy Chairman,Alfred Banya welcomed the new initiative and called for national cohesion and inclusiveness.He said Council will soon embark on consultations for the preparation of annual budget and therefore called on communities to comply so they may be included in development project
Communications Officer,Fambul Tok International-Sierra Leone,Solomon Yarjoh said NGOs and other agencies oftened embarked on development activities without consultations with beneficiary communities and therefore most of those projects did not succeed.
He lamented"Today we can still find around the tragedy of failures and wastages of resource all around in the form of white elephants.The PPP will be an initiative from you based on your felt needs and priorities.This is what NGOs,development partners and Council will use as blue print to support the chiefdom"
The launching of the PPP will be followed by community visits at sectional levels to ensure stakeholders convey the outcome of the chiefdom meeting which will be also used to collect lists of village representatives for the community preparedness meetings in all ten sections.