Peace mothers in mofindor section,Luawa chiefdom,Kailahun district have generously contributed physically and financially to infrastructural development in that part of the counry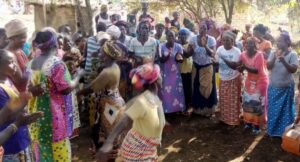 The women through their activities contributed to the construction of a mosque where over hundred people will gather to worship. The peace mothers having looked at the non- availability of a meeting place , decided   in consultation with community members to build a court barray in Yengema village
According to the peace mothers' chairlady, Satta Joe, she said the support did not come as a surprise as peace mothers have done a lot to ensure peace and development aspirations are realized.
She explained that the group was formed in 2008 after Fambul Tok community healing and reconciliation ceremonies that brought victims and perpetrators together. She said initially it was very difficult for women to come together but after few months they decided to contribute by villages and that helped them to embark on agricultural activities
Satta went on to state that they started off with groundnut and rice farming through support from Fambul Tok.  Fambul Tok through US State Department of the America Embassy in Sierra Leone during the early period of the ebola supported women in that part of the country. A brand new rice mill was provided for peace mothers in Mofindor section which continue to assist them solve most problems
"Peace mothers in this section have supported the aged,paid school fees for orphans and continue to help group members through proceeds from rice mill" Satta explained
One of the peace mothers' members, Mamie Bockarie reechoed their chairlady's explanation and added that Peace Mothers contributed financially to construct town barray and mosque in Yengema. She highlighted "we helped to provide  food during work days and appointed women to cook and help with other things during work time. We want to extend our thanks and appreciation to Fambul Tok and especially the American Embassy for supporting women  in Kailahun "Mamie pointed out
Another Peace Mother, Miatta Njawa said having worked so hard with their community members, in one of their general meetings, they resolved to find an  outstanding way to work with community members to embark on developmental projects.
Peace mothers in this section suffered during the civil conflict as many were raped, molested and left as widows as their husbands were killed