The minister of State Office of the Vice President Frances Alghali, Minister of Agriculture Forestry and Food Security and the Deputy Minister of Local Government and Rural Development Melrose Kargbo attended Grievance Redress committee (GRC) meeting and visited inland valley rice farm at Mokanji and later participated in the rotational Multi Stakeholders Platform (MSP) meeting in Mosenesie at Mosenesie in Moyamba District. These activities are part of the project "Mitigating Resource-based Conflicts and Increasing Community Resilience in Pujehun and Moyamba districts in Sierra Leone" funded by the UN Peacekeeping Fund and implemented by Fambul Tok and WFP Sierra Leone.
Fambul Tok Executive Director John Caulker, in the MSP meeting at Mosenesie, outlined the findings of the GRC ranging from royalties from mining companies, marginalization of women to chieftaincy disputes. He said these are from the local people and community stakeholders. He cautioned them to manage their expectations and work for understanding with the mining companies so that the outcome will be a win-win situation for all stakeholders. He said there would not be any development without peace and stability in the communities. Fambul Tok will continue to work with all stakeholders for peace and sustainable development
Minister of State in the Office of the Vice President, Frances Alghali, said the GRC and MSP are working well and everyone must support the project. After the elections government realized that because of lack of livelihood and cognizant that the mining companies cannot employ everybody and therefore through OVP called on the UNDP to fund this project to alleviate the situation.
She observed: "In spite of the millions of dollars being taken out of the district, there are still bad roads. That's why President Bio is putting together policies such as review of the mining laws that will benefit communities. I hope the MAFFS minister will bring the president here to see the success of the UNPBF project". She explained that everybody and local institutions present were part of government and should address issues at their appropriate level. Failing which there would be intervention from the appropriate higher authority – GRC, MSP and ministries.
The Deputy Minister of Local Government Melrose Kargbo called on the mining community stakeholders to have a rethink about the allocations of the surface rent so that it will benefit major community infrastructure projects rather than sharing it among themselves. Mrs. Kargbo said for a long time the communities have complained of not getting good roads, electricity and clean water. "You can hang heads with your community leaders to see if you can set up a plan for monies from the companies to be used directly for the provision of these amenities on a long term basis". She asked people to desist from vandalism and roadblocks, as that would not help development and sustainable economic growth. On paramount chieftaincy disputes she explained that the removal of paramount chiefs (PCs) have a tedious procedure and people aggrieved should be patient enough to allow the due process. Its only after a chief dies that a regent is installed. The matter of PC Russel of Lower Banta chiefdom was still on and therefore the chiefdom only has a caretaker chief until the matter is resolved.
Minister of Agriculture Dr Abu Bakarr Karim said, "Our problem is that as a nation we have been dependent on mining. We import food and those that sell to us are coming to us for land to do agriculture." Fambul Tok in collaboration with UNDP and WFP have done laudable job by putting livelihood and peace at the forefront of sustainable development, he said. He assured the project of continued government support and asked World Food Programme Sierra Leone to ensure that the farming activities were sustainable. He said government has taken a policy shift towards agriculture support that will see the engagement of private sector providing support in line with government subsidy. He told the GRC that MAFFS has reached an understanding with the Ministry of Basic and Secondary School Education (MBSSE) to purchase local rice for its school -feeding programme to ensure sustainability for formers.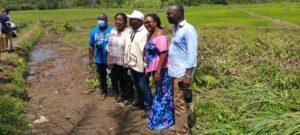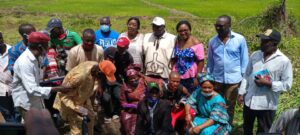 Also present were WFP and UNDP staff , councilors , Office of national Security, District planning Officer, civil society district representative, chiefs, religious leaders, youths, persons with disability, mammy queens (women leaders) and stakeholders of both lower and upper Banta chiefdom in the Moyamba Districts