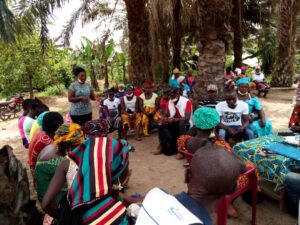 On the 15th March, Fambul Tok (FT) team witnessed Community Welfare and Mediation Committee (CWMC) rotational meeting in Bambawulo community, in the Bulima section in Penguia Chiefdom, Kailahun district, southern Sierra Leone.
The Bulima section CWMC executive, since its formation in July 2020, has succeeded in creating smaller FT groups in all 15 villages in the section.
While giving updates of the group's activities over the period, Amos Charles, the Financial Secretary informed Fambul Tok that they decided to create groups in all villages in order to enable individual villages to work towards their respective needs in terms of development in the chiefdom. He went on to say that their membership has now reached 82 (36 Males and 46 Females); adding that they now have in their account the sum of Le 7,930,000 which they use to give out soft loans to their members and also for developmental activities in the section. Amos also informed Fambul Tok about some of the successful community mediation efforts embarked on in communities that have resulted in relative peace in the section over the years.
FT observed that each member contributes the sum of Le 10,000, plus Le 2,000 and a cup of rice for refreshment during each monthly meeting. Amos informed the our team that, "the group is divided into two and for each month a total of 41 people will benefit from a soft loan to the tune of Le 160,000 for which one will pay back the sum of Le 175,000 in return, which includes an interest of Le15,000".
Lucia Brima, district team leader, encouraged the group to keep up the good work and said: " you are not doing it just for the sake of Fambul Tok but for the interest of your communities and the section as a whole". She went on to say that FT will always be there to provide the space for community development. The group intends to meet again on the 15th April in Lukono community.